May 30, 2016
Dear Parents,
We hope you enjoyed your
weekend! This is the last week of first grade and we have many exciting events happening this week. Our last day of school will be June 3rd.
We will going on a field trip to El Picacho Zoo and BCIE on June 1 at 8:15am. Please make sure your child brings a water bottle and a small backpack or lunch box for their snack. Also please have them wear appropriate clothing, towels, and sunblock for walking around the zoo and to swim in the pool. Please do not bring large inflatable toys for the pool. Lunch will be purchased at BCIE and we will be back at school before dismissal.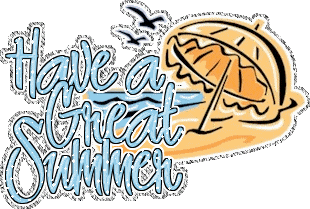 If your child will no be here on the last day of school, June 3rd, please inform us as soon as possible, so that we may wish him/her a proper farewell.
Here is list of online books and audiobooks as well as a list of recommended chapter books for the summer and 2nd grade. IXL is also available to practice math skills for this summer.
Online books and Audiobooks
A to Z Mysteries series by Ron Roy

Amelia Bedelia series by Herman

Cam Jansen series by David J. Alder

Charlie and the Chocolate Factory by Roald Dahl

Danny and the Champion of the World

Diary of Wimpy Kid series by Jeff Kinney

Encyclopedia Brown series by Donald J. Sobol

Geronimo Stilton series by Geronimo Stilton

Henry and Mudge series by Cynthia Rylant

Henry Huggins by Beverly Cleary

Ivy + Bean series by Annie Barrows

James and the Giant Peach by Roald Dahl

Magic Tree House series by Mary Pope Osborne

Matilda by Roald Dahl

Mr. Putter and Tabby series by Cynthia Rylant

Nancy Drew and the the Clue Crew series by Carolyn Keene

Smile by Raina Telgemeier

The BFG by Roald Dahl

The Mouse and the Motorcycle by Beverly Cleary
For the last 24 days of school First grade will be doing at least 1 special activity per day. Below we have listed all the activities that will be taking place. We appreciate your support for this activity.
***Activities with an asterisk need parent assistance***
Test your Spelling Day- Sparkle and class Spelling Bee

Upside Down Day-Our daily schedule will be turned upside down

Walk to the Bus- End of the Year field trip!

***Popcorn donations please ( if you would like to help out please let us know, We need 10 bags of microwave popcorn)

Yay Yay it's Party Day – Let's Zoom out of School

*** Need help with snacks, lunch and dessert
This week your child will be inquiring into the following:
Language Arts
Word Wall-
This week your child will be reviewing all the Word Walls with various chants and activities.
Reading
-
For reading, we will be reading and presenting the play Do You Live in Nest?.
Writing
-
This week, you child will continue creating their reflection piece about first grade.
Math
- This week your child will review 1 grade math skills
.
SUMMER CAMPS AT DISCOVERY SCHOOL
- Just like last year, there will be two summer camps in the month of June. Discovery Zone 7 will be a fun, artistic and entertaining camp for children 3 to 9 years old. There will also be a reinforcement camp for reading, writing and French for students in grades K-2. Both camps will run from June 13 to July 1, with the same schedule (8:00 a.m. to 12:00). Transportation is available at a small additional cost. If you or a relative/friend is interested, more information can be given to you by Ms. Carolina or at the accounting offices in school.
SCHOOL SUPPLIES DRIVE – When cleaning out backpacks and lockers, and for some of you that will be packing your homes, we encourage you to consider donating notebooks, pencils, colors, etc that you find in good condition to NPH. We thank you for your support with this initiative.
Important Dates Coming Up:
Monday, May 30 Secondary Semester Exams (grades 8-12)
Tuesday, May 31
Wednesday, June 1
Friday, June 3 Last day of school for students
Friday, June 10 GRADUATION DAY (ceremony at 10:00 a.m.)
Last Day for Teachers